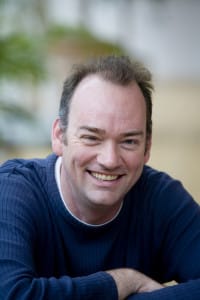 After Floris M. Kleijne's birth in Amsterdam in 1970, nothing of consequence happened to him until 2001, when he traded his mother tongue for the English language. (His mother still resents the trade; she's not spoken to him since.) Since 2001, he's published stories–some of them award-winning–about space travel, time travel, an axe murderess, people with gills, and–even though he's happily married–a naked man in a cage. His first novel, a road movie with werewolves cast as the good guys, is only two rewrites, an agent, and a publisher away from becoming a best-seller. Floris likes to claim he prefers writing to Real Life, but the truth is his he loves both with equal passion–which is why he's so glad that the two merge seamlessly in the Villa Diodati workshops.
Read his blog, and all about his writing, on http://www.floriskleijne.nl/.\
This is a list of the works that were either workshopped or brainstormed at Villa Diodati and have since been sold or published.
Brag List